The United States President, Mr. Donald Trump is coming under fire for proposing a budget that includes the complete elimination of federal funding for the Meals on Wheels Program (MOWP). Meals on wheels services provide food to the elderly, poor, veterans, disabled and others who often can't leave their homes.
Reported in the New York Times this week, under the proposed budget, the Department of Housing and Urban Development's entire $3 billion Community Development Block Grant program would be eliminated. The grants fund services for low-income Americans ― including grants for Meals on Wheels programs. While it is acknowledged that many meals on wheels service providers receive funding from a range of sources, there is no doubt that providers who rely on federal funding will be forced to make cuts of their own.
"Increasing the vulnerability of older people, many of whom have helped shaped a nation, their community and family is unacceptable if these budget cuts are true. Where is the humanity in society if we take away from those who have not", said Dr. Jane Barratt, Secretary General of the International Federation on Ageing (IFA).
Meals on Wheels America have also reacted to the news with a statement on the budget blueprint also known as the "skinny budget," sent to Congress by the President. This blueprint focuses on discretionary spending levels for Fiscal Year 2018, and makes investments in defense programs, paid for through deep cuts to non-defense discretionary (NDD) programs, such as Meals on Wheels.
"The problem with a skinny budget is it is lean on details. So, while we don't know the exact impact yet, cuts of any kind to these highly successful and leveraged programs would be a devastating blow to our ability to provide much-needed care for millions of vulnerable seniors in America, which in turn saves billions of dollars in reduced healthcare expenses" said Ellie Hollander, President and CEO Meals on Wheels America.
The IFA, in collaboration with the WHO, recently hosted the first in a series of webinars on age-friendly environments slated for 2017. Along with other initiatives of the IFA / WHO Age Friendly Innovation Exchange, this series of webinars will form a foundation for discussion of Age-friendly Environments as one of the subthemes of the IFA 14th Global Conference on Ageing (www.ifa2018.com).
The aim of this webinar was to provide a comprehensive introduction to the umbrella of topics to be covered under age-friendly environments, and to the role of the Global Network of Age-Friendly Cities and Communities (GNAFCC) in working toward age-friendly environments.
The webinar had over 180 attendees and generated many insightful questions about age-friendly policies and practices globally. The recording for this webinar can be found by clicking here.
As part of the IFA's ongoing commitment to exchanging information and knowledge on age-friendly environments, the IFA is:
Launching an IFA age-friendly enewsletter with a Q & A forum (building on the questions which were asked during the webinar);
Encouraging contributions of good practice, lessons learned and solutions to barriers for the enewsletter;
Announcing the 2nd IFA / WHO webinar on the topic of "WHO Core Indicators of Age-Friendliness" presented by Megumi Kano, DrPH, WHO Kobe Centre for Health Development scheduled for 25th April 1pm Japan Standard Time.
To be part of ongoing developments in the IFA's work on age-friendly, and to receive and make contributions to the upcoming age-friendly newsletter, register interest here or contact Jessica Rochman-Fowler (jrochman-fowler@ifa-fiv.org).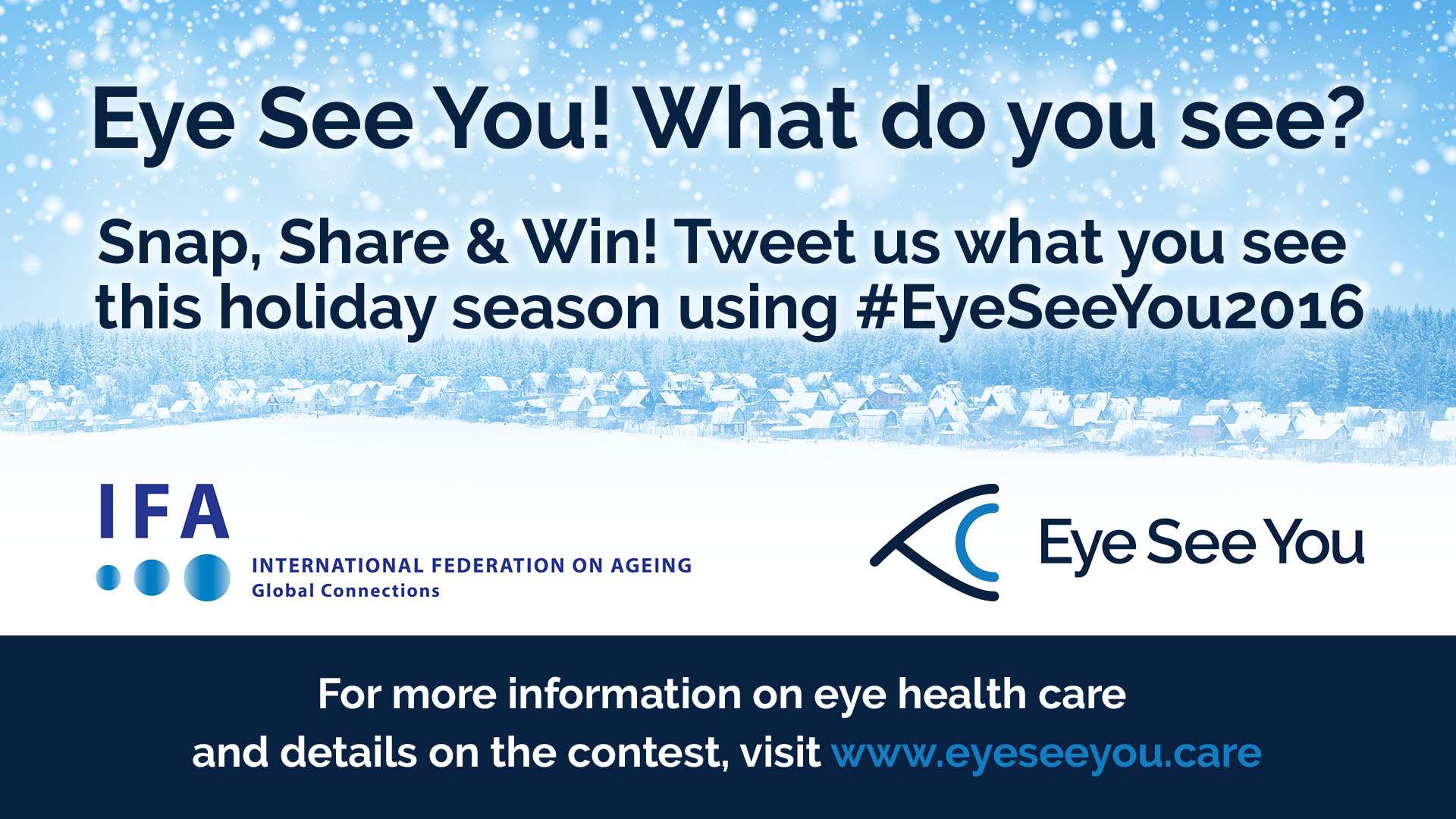 The International Federation on Ageing is inviting amateur and professional photographers across Canada to join us in celebrating eye health this holiday season.
Tweet a photo of your favourite holiday sight using the hashtag #EyeSeeYou2016, and you will be automatically entered to win a brand new pair of Ray-Ban sunglasses, valued at $175.
Contest Rules
To participate, simply Tweet or post a photo on Facebook of your favourite holiday sight using the hashtag #EyeSeeYou2016. You will then be automatically entered to win a brand new pair of Ray-Ban sunglasses, valued at $175! 
The IFA (@IntFedAgeing) will be retweeting/reposting all submitted pictures.
All images submitted must have been taken by the person submitting the entry. 
Participants are able to submit a maximum of 3 photos.  If more than three photos are received, only the first three photos submitted will be eligible to win.
You have from December 19, 2016 to January 2, 2017 to submit your favourite photos.  On January 6, the photo that is most visually appealing and shows the most holiday spirit, creativity, and originality will be selected as the winner.
All photos submissions must be made by Canadian residents who are 18 years or older.
For more information, and to view full contest rules, click here.